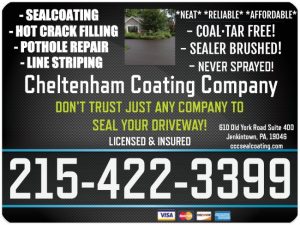 *NEAT* *RELIABLE* *AFFORDABLE*
-POTHOLE REPAIR
-ASPHALT SEALCOATING
-CRACK FILLING
-PARKING LOT MAINTENANCE
-LINE STRIPING
WHY CHOOSE US? 
SEALER BRUSHED! NEVER SPRAYED!
WE OFFER A 1 YEAR WRITTEN WARRANTY!

WE USE THE HIGHEST QUALITY MATERIALS!

WE USE COAL·TAR FREE ASPHALT SEALER!
*PARKING LOT MAINTENANCE*
WHAT WE DO?
We provide high quality Asphalt Maintenance, Filling Cracks, Potholes, and Sealcoating driveways with commercial grade (Slip Resistant) Asphalt polymer modified sealer (*With Sand*) for optimum durability and performance that last longer and *dries blacker* then the average sealcoat being used today. Sealcoating is a cost effective alternative to paving. ("Don't pave it, Save it!").
 HOW OFTEN SHOULD I SEAL MY DRIVEWAY?
 It depends on several factors (Age of the driveway, Winter Weather, Personal Preference) New asphalt should be sealed 6-12 months after installation. If a driveway has never been seal coated before and is sealed for the first time, we recommend seal-coating again the following year. After that point we recommend re-sealing every 2 – 3 years depending on the weather, the amount of cracks in the driveway and your personal preference.
LICENSED & INSURED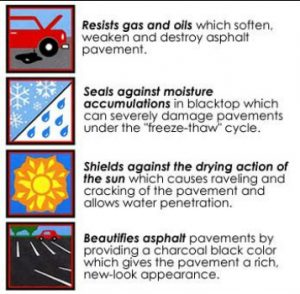 *OUR PRICING VARIES BASED ON THE CONDITION AND SQUARE FOOTAGE OF YOUR DRIVEWAY OR PARKING LOT.
CALL TODAY TO SCHEDULE YOUR FREE ESTIMATE!   
CONTACT US
Cheltenham Coating Company


610 Old York Road Suite 400




Jenkintown, PA 19046

Phone:215-422-3399

Email:[email protected]
Hours
Monday—Saturday: 7:00AM–8:00PM
Sunday: 9:00AM–6:00PM